About Cultural Impact Foundation


Humans are endowed with innate creative abilities; we have formed civilizations and societies, framed laws, built architectural marvels and created cultural masterpieces. It is our creative abilities that have allowed us to produce magnificent cultural and scientific achievements for thousands of years.

---

Since the dawn of time, however, humanity has faced massive threats and calamities, both natural and man-made, that have led to the eradication of cultural traditions and relics, scientific accomplishments, and even entire populations. The most devastating of all man-made calamities is genocide.

---

The Armenian Genocide (1915-1923) was the twenty-first century's first and most documented genocide. In fact, the word "genocide" was coined specifically to describe the planned extermination of the Armenians at the hands of the Ottoman Turks. Yet, this genocide has largely escaped recognition, primarily for political reasons. In fact, many scholars believe that the Armenian Genocide served as a model for future genocides.

---

The mission of Cultural Impact Foundation, Inc., "the Foundation", a 501 (c) (3) tax-exempt nonprofit organization formed in 2017, is to advance and support multi-media projects that recognize and celebrate human benevolence and ingenuity, and, in so doing, help eradicate prejudice, discrimination, and other social injustices. In addition, it is our hope that these projects will help prevent future atrocities and genocides, and the destruction that they bring to the cultural heritage of those targeted or oppressed.

---

The Foundation will help advance projects that celebrate human endurance against all odds and recognize those who have triumphed over adversities. Furthermore, the Foundation will showcase projects that highlight human rights issues, social injustices, and untold stories of human interest.

---

We urge you to consider supporting the Foundation. The untold tales of history are waiting to be unveiled. They need to be told or we, as humans, are condemned to repeat the offenses of the past. These projects simply need financial support for the artists who will bring them to light.

---

Your financial contribution is crucial to the realization of our mission. To make a donation, please go to the Donate Page.

---

Cultural Impact Foundation, Inc. is tax-exempt under Section 501 (c) (3) of the Internal Revenue Code.
Board of Directors

---

Chris Sassouni, DMD - Chairman
---
Chris Sassouni is the Chairman of the Board and President of Cultural Impact Foundation, Inc. Chris attended the University of Pittsburgh where he earned his Bachelor of Arts in English Literature followed by his doctoral degree in dental medicine (D.M.D.) in 1985. In 1989, Dr. Sassouni earned his Masters degree in Business Administration (MBA) from the University of North Carolina at Chapel Hill. For the past 14 years, Chris has been a research analyst and a portfolio manager for Eagle Asset Management, a wholly-owned subsidiary of Raymond James and Associates.

---

Despite being of Armenian descent, Chris knew very little about Armenian history until well into his 50s. A chance meeting in 2009 with famed documentary filmmaker, Bared Maronian, would change all of that. The production of Orphans of the Genocide would open the pages of history to Chris and, for the first time, help him to understand one of the least known and horrific events in human history – the systematic extermination of 1 ½ million Armenians at the hands of the Ottoman Turks between 1915 and 1923. The power of documentaries to improve our understanding of historical events by revealing acts of human kindness and heroism in the face of adversity is what led to the formation of Cultural Impact Foundation in 2017.

---

In addition to his role as Chairman of the Board of Directors and President of Cultural Impact Foundation, Inc., Chris is also the Chairman of the Board and President of Biblical Manhood Adventures, a 501(c)(3) tax-exempt nonprofit organization dedicated to helping boys make the often difficult transition to successful manhood. A variety of learning experiences are used to help boys successfully navigate this journey, including studies of Biblical principles, father-son retreats, and group meetings. Dr. Sassouni lives in Clearwater, Florida with his wife, Carol, and his two children, Michelle and Christopher.

Hrair Koutnouyan, MD - Vice Chairman
---
Dr. Hrair Koutnouyan is a Diplomate of the American Board of Otolaryngology, Head and Neck Surgery. He is the senior partner at Ear, Nose and Throat Surgical Associates, with offices in Glendale and Pasadena, California.

---

Dr. Koutnouyan received his undergraduate education at the University of California at Riverside, and then completed his medical education at the University of California at San Diego. He completed a residency in otolaryngology at Kaiser Hospital Oakland, California. He is a member of the American Academy of Otolaryngology, the Los Angeles County Medical Association, the Los Angeles Society of Otolaryngology and the Armenian American Medical Society of California. Dr. Koutnouyan was educated at the Armenian Evangelical College. This is where his love of Armenian history, culture and social justice were nurtured. Since his youth, Dr. Koutnouyan has participated in youth and community organizations that foster and promote philanthropic, artistic and social issues of the local Armenian community, as well as communities in Armenia and Artsakh.

---

Dr. Koutnouyan is a school classmate of documentary filmmaker, Bared Maronian, whose recent award-winning works include Orphans of the Genocide and Women of 1915. Mr. Maronian's talent and dedication to using film as a medium to reveal the relatively unknown history of the Armenian people, and other similar stories of human struggles in the shadow of obscurity, is what led Dr. Koutnouyan, together with other like-minded board members, to establish the Cultural Impact Foundation, Inc. in 2017. Dr. Koutnouyan is married to his wife, Alina, and together they have two children.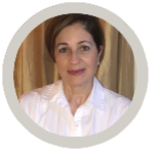 Nicole Babikian- Member
---
Nicole Babikian Hajjar earned her Bachelor of Arts in Economics from the American University of Beirut (AUB) and a Translator's Diploma from Universite Saint-Joseph (USJ) in Lebanon. Fluent in French, Arabic, English and Armenian, she has worked as a sworn translator in Beirut and a copywriter in the advertising industry.

---

Since moving to Massachusetts, Nicole has worked as a language instructor at Berlitz Language Center and volunteered at Massachusetts General Hospital before becoming involved in Boston's Armenian and Lebanese communities.

---

She has helped organize and chaired numerous charitable events for various Armenian non-profit organizations, including the Armenian Mirror-Spectator, Armenia Tree Project, Project SAVE Archives and Hamazkayin, to name a few. She has served St. Stephen's Armenian Elementary School in various capacities, also chairing its 35th-anniversary celebration.

---

Nicole has also served on the Leadership Committee of her alma mater's alumni local chapter, the Worldwide Alumni Association of American University of Beirut (WAAAUB)-New England Chapter, planning annual galas to raise AUB scholarship funds.

---

In parallel, Nicole has chaired the Board of the YerazArt Foundation for close to ten years, helping develop and promote its mission to assist young musicians from Armenia.

---

Nicole supported and promoted Bared Maronian's award-winning documentary, Women of 1915, and later joined the Board of Cultural Impact Foundation.

---

Her new responsibilities also include positions on the Boards of the Vahe Fattal Foundation, the Dartmouth Women's Club of Boston, and the USJ Alumni Association's Boston Chapter.

---

She lives in Lexington with her husband, Jean-Jacques. They have three children together: Serena, Joseph and Anelga.